About Us
What Do We Believe?
God loves you no matter who you are or what you've done. (John 3:16 & 17)
Jesus is God's Son Who was sent to save the world. (John 3:16 & 17)
God is good and does good. (Psalm 119:68)
God has a plan for your life. You are valuable to Him. It's never too late. (Jeremiah 29:11)
God gives good gifts to His children. He gave Jesus. He gave the Holy Spirit. He heals. He helps. (James 1:17)
God is faithful. He will do everything He promised. (2 Thessalonians 3:3)
God helps those who can't help themselves. He is the Helper Who is always there. (Psalm 34:6)
God made a way for you to escape. He made a way to Heaven so you can escape hell. (1 Corinthians 10:13; John 3:16)
We believe in Miracles. God still does miracles today. (Hebrews 13:8)
Venice shall be saved. (Psalm 37:4)
Who are we?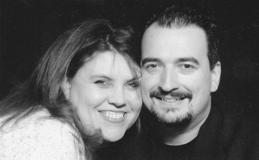 Pastor Charles Black
Charles Black served in many areas of ministry for over 20 years and is now the pastor of Abounding Grace Fellowship in Venice, Florida.
Together with his wife, Sandy, he is committed to preaching the Good News of God's Grace and His Son, Jesus Christ to all of Venice, Florida and the world.
Their hearts' desire is that you know, above all else, that Jesus loves you no matter what, and He has made a way for you to get to Heaven.